ATEX Three-Phase Motors
On this page, you will find a selection of explosion-proof motors in grey cast iron. These are available in sizes 71-315 with the following power output capacities: 0.09kW, 0.18kW, 0.25kW, 0.37kW, 0.55kW, 0.75kW, 1.1kW, 1.5kW, 2.2kW, 3kW, 4kW, 5.5kW, 7.5kW, 11kW, 15kW, 18.5kW, 22kW, 30kW, 37kW, 55kW, 75kW, 90kW, 110kW, 160kW, 200kW, 220kW, 250kW, 280kW and 315kW. These motors are available in rotation speeds, i.e., motors with 2, 4, and 6 poles. All the listed EX. motors are equipped with a pressure-resistant closure and comply with the relevant directives.

Sizes 80-225 are available in II 2G Ex db IICT4 Gb
Sizes 250-355 are available in II 2G Ex db IIBT4+H2 T4 Gb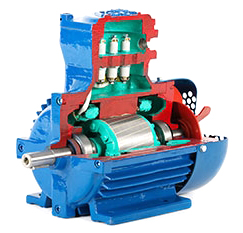 Explosion-proof ATEX Motor structure


Important Note on the ATEX Version
The company that is operating the motor is responsible for determining which outdoor areas or enclosed spaces are deemed as potentially explosive atmospheres according to general regulations. If there is any doubt about the definition of zones with explosive atmospheres, the responsible supervising authority must decide. Directive 99/92/EG - ATEX 137 (formerly ATEX 118a), Occupational Health and Safety Directive, clearly specifies the responsibilities the operator of such installations has. Directive 94/9/EG ATEX 95 is the basis for explosion-protected products (equipment directive). This directive defines the requirements for products that are in use in potentially explosive atmospheres. Electrical machines that are in operation in zones 1, 2, or zones 21, 22 can be designed with different types of ignition protection. The aim of these ignition protections is safe prevention of ignition of any explosive atmosphere present in the area where the electrical machine is in use.
Ignition Protection – Flameproof Enclosure "D"
Construction Regulation: EN 60079-1: 2007 (VDE 0170-5) Definition:
This ignition protection ensures that any parts which can ignite an explosive atmosphere are arranged in an enclosure. In the event of an explosion of an explosive mixture inside, the enclosure withstands the pressure and prevents the transmission of the explosion to the explosive atmosphere surrounding it.
- Observation of the explosion group
- Flameproof housing
- Complying with the required gap widths and lengths
- Terminal box pressure-proof enclosure "d" or for increased safety "e"
- The temperature of the outer surface must be lower than the ignition temperature of the gases occurring in the surrounding environment
- An explosion may occur inside the housing – it must however withstand this pressure and a flame or ignitable, hot gases must not leak to the outside through any gaps
SEO= Atex- Motors 1.5/2,2/3/ 4/5,5/7,5/11/15KW - ATEX three-phase motors