ATEX three-phase motors
On this page, you will find a selection of explosion-protected motors in grey-cast iron design in sizes of 71 - 63 and with powers of 0.09KW, 0.18KW, 0.25KW, 0.37KW, 0.55KW, 0.75 kW, 1.1 kW, 1.5 kW, 2.2 kW, 3 kW, 4 kW, 5.5 kW, 7.5 kW, 11 kW, 15 kW, 18.5 kW, 22 kW, 30 kW, 37 kW, 55 kW, 75 kW, 90 kW, 110 kW, 160 kW, 200 kW, 220 kW, 250 kW, 280 kW and 315 kW. These motors are available in various speeds, i.e. motors with pole numbers of 2, 4 and 6. All EX motors listed are equipped with pressure-resistant enclosure and comply with the relevant directives.
Motor sizes 80-225 are available in II 2G Ex db IICT4 Gb
Motor sizes 250-355 are available in II 2G Ex db IIBT4+H2 T4 Gb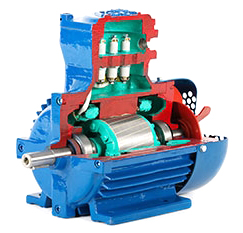 Explosion-proof ATEX Motor structure


Important points to note on the ATEX design
It is the responsibility of the company operating the machine to decide which outdoor or indoor areas shall be considered as explosive atmospheres in accordance with common regulations, or if there is some doubt about the definition of zones with explosives atmospheres the responsible supervisory authority has to decide.The directive 99/92/EG – ATEX 137 (formerly ATEX 118a), i.e. the safety at work directive, defines the responsibilities for the company operating such machines.The basis for explosion-protected products is the directive 94/9/EC ATEX 95 (equipment directive). It lays down the requirements placed on products for use in explosive atmospheres. Electrical machines for use in Zone 1, Zone 2 or Zones 21 and 22 can be designed in various types of ignition protection; the objective of each of these types of ignition protection is to securely prevent ignition of the explosive atmosphere that possibly exists at the place of installation of the electrical machine.

Type of ignition protection termed 'pressure-resistant enclosure "d"'
Construction regulation: EN 60079-1:2007 (VDE 0170-5). Definition:
Type of ignition protection where the parts that might ignite an explosive atmosphere are enclosed by a housing that resists the pressure produced by the explosion of an explosive mixture inside the housing and hence prevents the explosion from being transferred to the explosive atmosphere surrounding the housing.
- taking account of the explosion group
- pressure-resistant housing
- respecting the required gap widths and lengths
- connection box of pressure-resistant enclosure (flameproof enclosure) "d" or increased safety "e"
- the temperature of the outer surface must be lower than the ignition temperatures of the gases in the atmosphere
- an explosion is allowed to occur inside the housing which must resist this pressure, and a flame or ignitable hot gases must not leak through gaps.
SEO= Atex- Motors 1.5/2,2/3/ 4/5,5/7,5/11/15KW - ATEX three-phase motors