Brake motors in many variations
SEVA-tec GmbH is specialized on a wide range of challenges in the professional drive technology field with a focus on electric motors, brake motors, motors with a variable number of poles, Atex motors, medium-voltage motors, frequency inverters and geared motors.


Brake drives with short lead times
In many cases, electric brake motors are needed which are designed to match customer's individual requirements. In this respect, with our qualified personnel, our large stock of motors and our own final assembly, we are a perfect partner for businesses that need external expertise in a large spectrum of issues and fast delivery.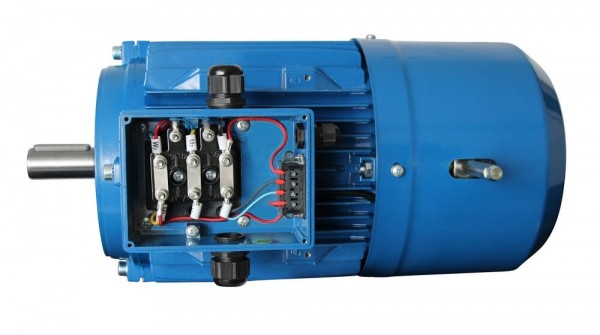 Brake motor in delta connection with rectifier



Electric motors with various brake designs
Whether it is a specific brake motor, a motor with spring-loaded brake, electric motor with permanent-magnet brake, brake motor with frequency inverter, special shaft, specific line voltage or brake motors with different degrees of protection, you can purchase our AC brake motors as energy-saving motors in IE2 and also in IE3.

Large assortment
On this page, you will find a selection of professional brake motors in aluminium design of the size 63 -132 and with powers of 0.12 kW, 0.25 kW, 0.37 kW, 0.55 kW, 0.75 kW, 1.1 kW, 1.5 kW, 2.2 kW, 3.0 kW, 4.0 kW, 5.5 kW, 7.5 kW, 11.0 kW, 15.0 kW, 18.5 kW, 22.0 kW, 30.0 kW, 45.0 kW, 55.0 kW, 75.0 kW, 90.0 kW and 110.0 kW.

Principle of operation of the brake
Spring-loaded brakes are single-disc brakes with two friction surfaces. One or more compression springs produce the braking torque by frictional holding when no current is flowing through the motor. Releasing the brake is effected electromagnetically. In this process, the coil of the field magnet is excited with dc voltage. The current in the coil produces a magnetic field that magnetizes the core, and the magnetic field from the core attracts the armature disc against the spring force. Hence, the armature on the rotor is released from the spring force and is free to rotate.

Your brake motor specialist
Our focus is on premium quality, a competent team and a price that conforms to the market. If you do not find your brake motor variant here in our online store, please do not hesitate to contact us via email or by phone. Specifically for large quantities, simply let us know how many you need so we can send you a top quote.
SEO= Brake motors in many variations, Brake motor 0.25-0.37KW-0.55-0.75-1.1 KW