Variations of Brake Motors
Seva-tec GmbH specialises in a wide range of challenges across the professional drive technology field with a focus on electric motors, brake motors, pole-switching motors, ATEX motors, medium voltage motors, frequency inverters, and gear motors.


Brake Drives with Short Lead Times
Electric motors with brakes are often required to match a customer's individual requirements and must therefore be designed accordingly. In this case, we are the perfect partner for your business as our qualified personnel combined with an extensive motor stock and in-house final assembly department enable us to deliver customised products fast.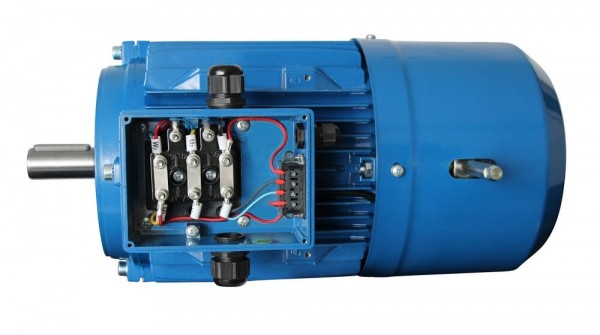 Brake motor in delta connection with rectifier


Electric Motors with a Range of Brake Designs
We can supply a range of special brake designs e.g. AC motor as a brake motor with a spring-operated brake, an electric motor with a permanent magnet brake, a brake motor with a frequency inverter, special shaft, special voltage or an electric brake motor with various protection classes. Our AC motors with a brake are also available as energy-saving motor/s in IE3 and IE4.


Large Assortment
On this page you will find a selection of professional, aluminium brake motors in sizes 63-132 with an electric capacity of 0.12kW, 0.25kW, 0.37kW, 0.55kW, 0.75kW, 1.1kW, 1.5kW, 2.2kW, 3.0kW, 4.0kW, 5.5kW and 7.5kW. Upon request, we can deliver brake motors of up to 110kW.


Functional Principle of the Break
Spring applied brakes are single disc brakes with two friction surfaces. One or more compression springs generate the braking torque by frictional contact when no current is flowing through the motor. The brake is released electromagnetically. To achieve this, the coil of the magnetic part is attracted with a direct current voltage. The resulting magnetic force draws the armature plate against the spring force to the magnetic part. The rotor is thus released from the spring force and can rotate freely.


Your Brake Motor Specialist
We pride ourselves on premium quality, a competent team, and a fair market price. If you cannot find the desired brake motor variant in our online shop, please send us your enquiry by email or simply contact us directly by phone. For larger quantities especially, simply send us your requirements and you will receive a competitive offer from us.
SEO=Variations of Brake Motors, Brake motor 0.25-0.37KW-0.55-0.75-1.1 KW