Motors with worm gearboxes
SEVA-tec GmbH is specialized on a wide range of challenges in the professional drive technology field. With a focus
on electric motors, frequency inverters and geared motors, we supply the national and international markets.


Motor sizes and powers
Our motors with worm gearboxes, frequently also referred to as angular gearboxes, are available in construction
sizes 30, 40, 50, 63, 75, 80, 100, 125 and 150 and with powers of 0.12 kW, 0.18 kW, 0.25 kW, 0.37 kW, 0.55 kW,
0.75 kW, 1.1 kW, 1.5 kW, 2.2 kW, 3.0 kW, 4 kW, 5.5 kW, 7.5 kW and 11 kW.
The aluminium worm gearboxes can be supplied with the following hollow shafts: 14mm, 18mm, 20mm, 25mm,
28mm, 30mm, 35mm, 40mm, 45mm and 50mm.



Special designs of worm gearboxes
We also provide you with special motor - worm gearbox combinations which are designed to match your individual
requirements. With decades of experience and our own final assembly, we are a perfect partner for businesses
that need external expertise in a large spectrum of issues whether it is a worm gearbox with brake motor, a special
shaft, a grill motor with gearbox, specific supply voltage or explosion protected design.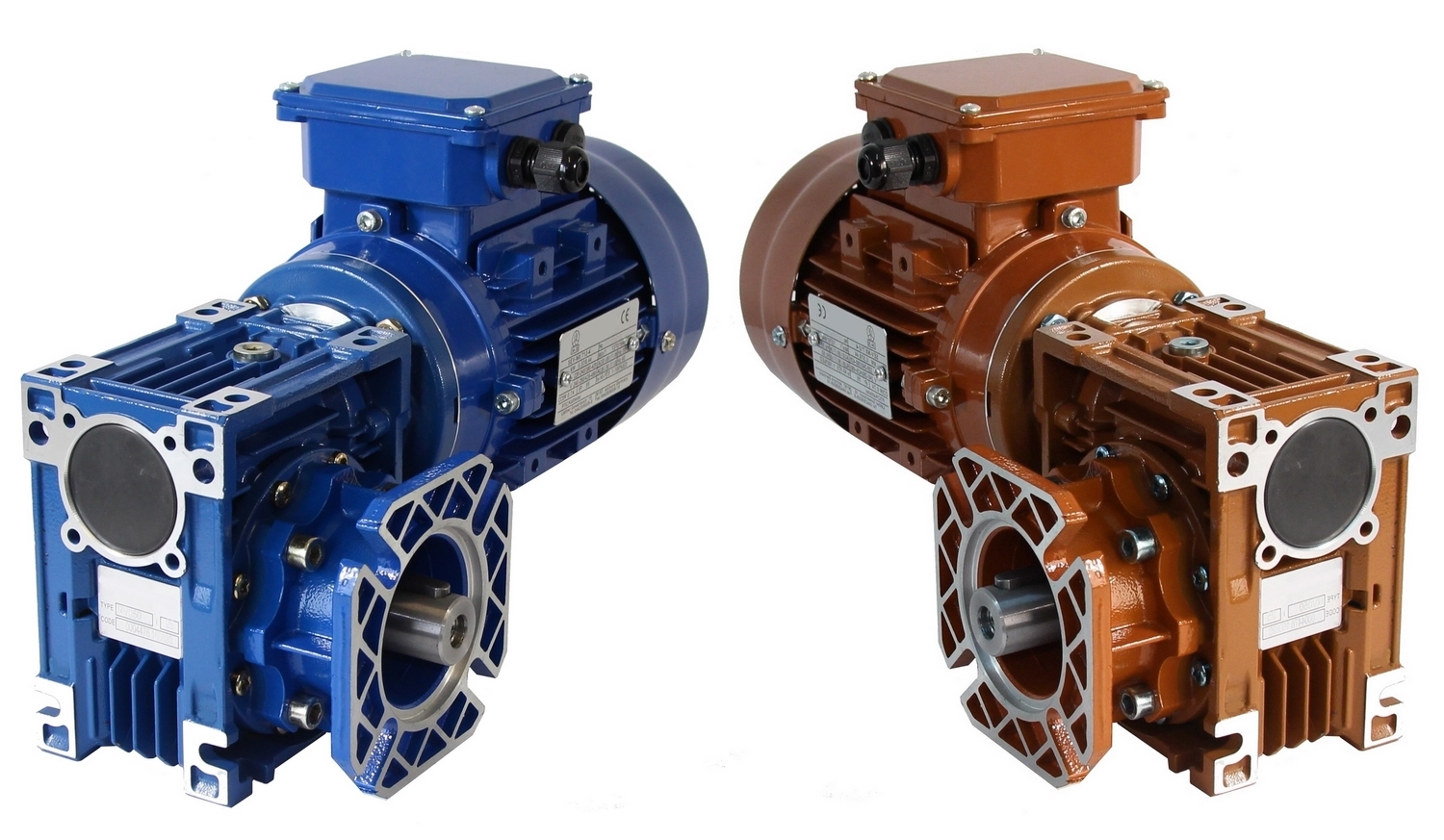 Worm gear with electric motors, stub shafts, output flanges and special paint (brown)

Worm gear with brake motors and special paint (red)




Worm gear with three-phase motors, stub shafts, torque supports and special paint (purple)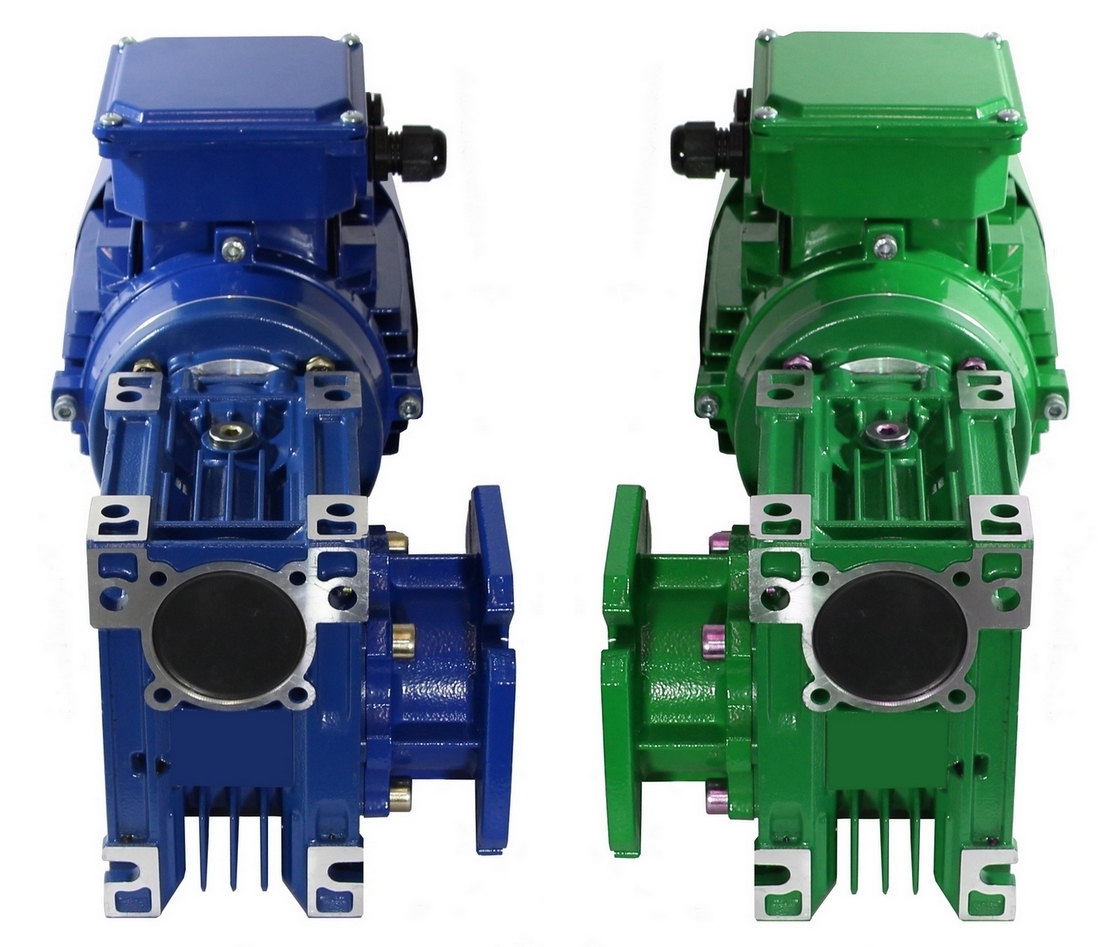 Worm gear with electric motors, output flanges and special paint (green)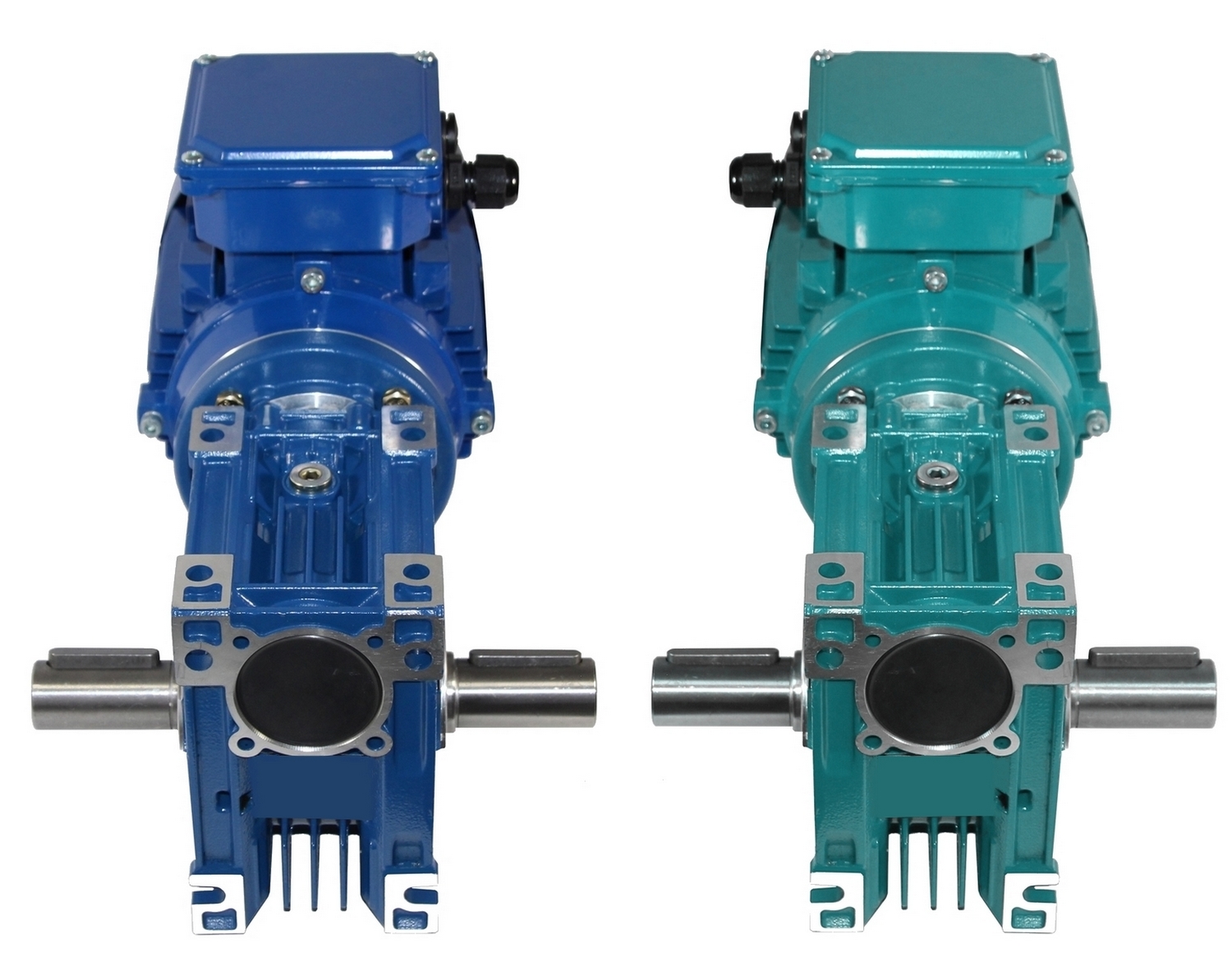 Worm gear with AC motors, double output shafts and special paint (petrol)



Mechanical layout
A worm gearbox consists of a shaft fitted with one or several pitches, i.e. the worm, and a helical geared pinion,
i.e. worm gear. The two shafts form an angle of 90°. This type of gearbox is specifically used for applications
requiring high gear reductions in one step. There are worm gear motors with left-hand and right-hand pitches.
These motors can operate in both senses of rotation.



Variable use
Full flexibility of installation includes foot, flange and centring solutions with a torque support. The motor terminal
box can be mounted in steps of 90° on the motor, as required. The geared motor can be mounted in any position
required such as, for example, horizontally or vertically. Based on a high degree of interchangeability of geared
motor components (IEC flange), the customer will benefit from greater flexibility of construction options available,
reduced costs, shorter delivery times and simple maintenance. Worm gearboxes are available in various speeds,
i.e. from 2 to 600 rev/min (revolutions per minute). Six construction sizes with axis spacings of 30 to 125 mm and
transmission ratios i = 5 to 110 (when two gearboxes are combined, up to i = 3000) are available in many designs.
The worm gearboxes and worm gear motors presented here have been developed for universal use in mechanical
engineering. The compact and low-weight aluminium housing manufactured using the die casting process has
great mechanical strength. The machining on all faces at one setting allows for maximum dimensional accuracy
and hence process security in many areas of drive technology. The high-quality wheel set consists of a hardened
worm with grinded profile shape and a wear-resistant bronze worm gear which is firmly cast with a cast iron hub.



SEO= Worm Gear Motor 0.25-0.37-0.55-0.75-1.1KW