Three-phase cast iron motor
SEVA-tec GmbH is specialized on a wide range of challenges in the professional drive technology field with a focus on electric motors, frequency inverters and geared motors. On this page, you will find a selection of AC motors in grey cast iron design sizes of 160, 180, 200, 225, 250, 280, 315, 355 and 400 and with powers of 4 kW, 5.5 kW, 7.5 kW, 11 kW, 15 kW, 18.5 kW, 22 kW, 30 kW, 37 kW, 55 kW, 75 kW, 90 kW, 110 kW, 160 kW, 200 kW, 250 kW and 315 kW. These motors are available in various speeds, i.e. motors with pole numbers of 2, 4, 6 and 8. You can of course purchase them as energy-saving motors in IE3. In many cases, three-phase motors are needed which are designed to match customer's individual requirements. With our qualified personnel, our large stock of motors and gearboxes and our own final assembly, we are a perfect partner for businesses that need external expertise in a large spectrum of issues – whether it is a specific brake motor, circular saw motor, electric motor with frequency inverter, motors with a variable number of poles, special shaft, specific line voltage or three-phase motors with different degrees of protection. If you do not find your electric motor in cast iron housing here in our online store, please do not hesitate to contact us via email or by phone. For large quantities in the B2B range, simply let us know how many you need so we can send you a top quote.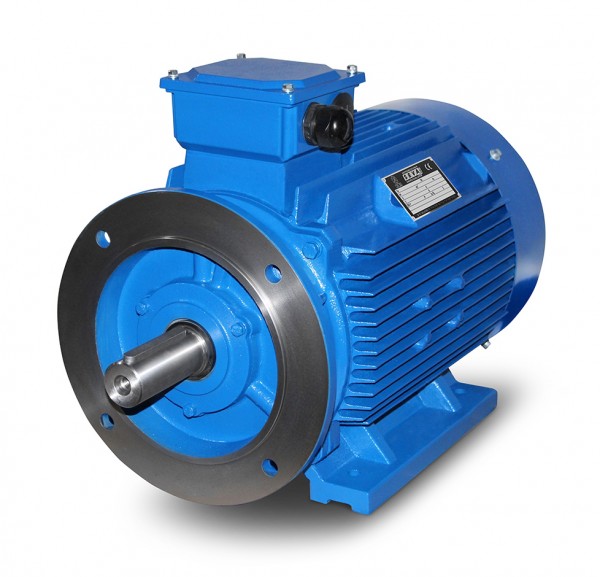 IE4 Cast Iron Electric Motor B35
Degrees of protection for motors
All motors and connexion boxes are designed to match IP 55 in accordance with EN 60034-5.As required by this standard, the AC motors are suitable for installation in a dusty and humid environment. When installed outdoors, the motors must be protected from intense exposition to the sun. For electric motors where the shaft end is located at the top, the user has to make sure that no water enters the motors via the shaft. In specific cases of application, we can on request increase the degree of protection specified on the motor nameplate by taking additional measures.
Heating during stoppage
On three-phase motors which are exposed to great temperature variations or extreme climatic conditions, condensate formation or condensation poses hazards to the motor winding. An optional incorporated heating during stoppage can heat the motor winding after the motor is switched off and prevent moisture from depositing inside the motor.The heating during stoppage should be switched on when the motor is operating.
Rotor balancing
On all motors, the rotors, with ½ shaft key fitted, are dynamically balanced in accordance with DIN ISO 8821. Drive elements such as belt pulleys, clutches and pump wheels must also be dynamically balanced with ½ shaft key fitted. Care must be taken that the length of the hub and the length of the keyway coincide to prevent any additional residual unbalance. Also full-key balancing is possible upon specific request.
Running truth
All motors are balanced and made with tight tolerances on running truth so that the vibration characteristics of the motors correspond with the vibration intensity level A as per DIN EN 60034-14. If specific requirements are placed on running truth, motors can be supplied in low-vibration design.
SEO= Three-phase cast iron motor- Cast Iron Motors 11-15-18,5-22-30kW