Planetary gear motor in compact design
Planetary gearboxes are compact,AC powerful reduction gearboxes which are available with electric drives
with powers from 0.12 kW to 90 kW. Comprehensive drive solutions can be provided in combination with
the bevel gearboxes and worm gearboxes. Nowadays, planetary gearboxes are used in various fields where
great demands are placed on the torque and a compact design. To meet the requirements in different
applications, the planetary gearboxes are available in various design variations and with many accessories.
Planetary gear motors up to 50,000 Nm
Ten construction sizes
Rated torques ranging from 1000 Nm to 50 000 Nm
Gear reductions from 3.5 to 3000
Can be connected to IEC standard motor (B5)
Different cooling options
The drive gear can be a bevel gear or worm gear, as required
Can be connected to a hydromotor
Special shafts, e.g. with multi-spline profile as per DIN 5480 or DIN 5482
Housings and flanges made of sphero cast iron (GGG40)
Standard seals (FKM) and synthetic oil
Standard protective cover for output shaft seal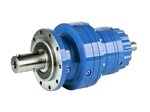 Planetary gear, solid shaft drive, without motor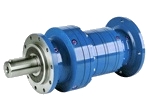 Planetary gearbox with flange connection, without motor
Planetary gear with motor and vertical drive shaft
Optional features and accessories
IEC standard flange (B5) for electric motor
Different output flanges
Shrink disc
Non-return device
Air heat exchanger, water heat exchanger
Temperature sensor, thermostat
Oil flowmeter, oil filter
Special seals
Oil level glass
Oil conservator
Torque support
Solenoid brake or hydraulic brake
SEO= Planetary gear motor 0.12- 90KW- Planetary gear motor in compact design