Progressive Electric Motor
SEVA-tec GmbH is your specialist in the field of professional drive technology. We focus on high-quality asynchronous motors, frequency inverters, and geared motors. We supply progressive electric motors, i.e. in reduced design with 750rpm, 1000rpm, 1500rpm, or 3000rpm rotational speeds in all common design variations. The following extras are also available: tachogenerator, incremental encoder, forced cooling fan, standstill heating, etc. Progressive three-phase motors are essentially electric motors with increased power in a smaller housing. In a narrow space, where a normal three-phase motor would not have enough space, the progressive design is a sensible solution. Progressive or high-output electric motors are used in fan systems, hydraulic drive units, pumps (for water, fuels, oils), etc.


Axle Heights and Power Ranges of Electric Motors
On this page you will find a selection of aluminium electric motors in the following sizes: 56, 63, 71, 80, 90, 100, 112 and 132 with a power output capacity of 0.06kW, 0.09kW, 0.12kW, 0.25kW, 0.37kW, 0.55kW, 0.75kW, 1.1kW, 1.5kW, 2.2kW, 3.0kW, 4kW, 5.5kW, 7.5kW and 11kW. Our drives are available in different rotation speeds, i.e. 2 poles, 4 poles, 6 poles and 8 poles. As a standard, the terminal box is positioned on top but it can be moved due to the removable feet. Our IEC standard motors are suitable for use with frequency inverters and are therefore also infinitely variable.


Operating Modes of Three-Phase Motors
The drives are available in the following operating modes: Continuous Operation S1, Short-Term Operation S2, Intermittent Operation S3 (without starting, without braking), Intermittent Operation S4 (with starting, without braking), Intermittent Operation S5 (with starting, with braking), Continuous Operation S6 (with intermittent load), Reversing Operation S7 as well as Continuous Operation (with variable rotation speed).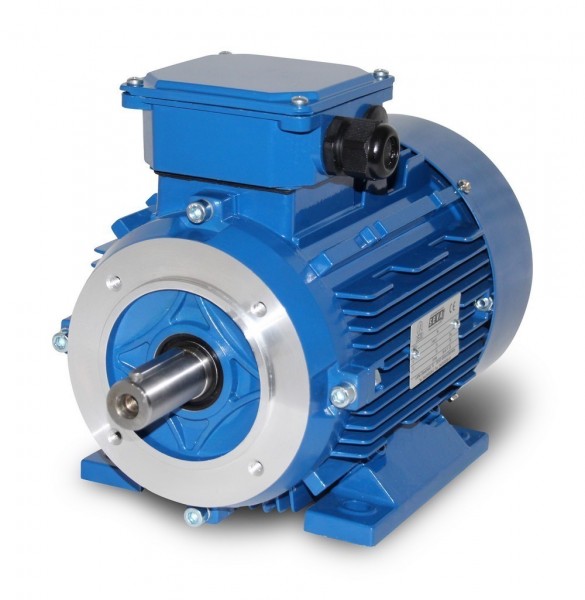 Reduced Size Electric Motor B34



Design and Terminal Boxes
The motor design is variable upon request. For reduced AC motors in the light version, i.e. from 0.12kW-11kW, the feet of the motor can be converted. It is therefore possible to convert a foot motor B3 into a flange motor B5, i.e. into a foot/flange/motor B3/B5. Another advantage is that the electric drive can be converted into terminal box positions KK top, KK left, KK right, and even KK bottom.


Rotor Balancing
The rotors of all motors are dynamically balanced according to DIN ISO 8821 with an inserted half feather key. Drive elements such as belt pulleys, couplings, and pump wheels must also be dynamically balanced with an inserted half key. It must be ensured that the hub length and the length of the keyway match are equal to avoid any additional residual imbalance. We can also offer full key balancing upon request.

Mechanical Smooth Running
The vibration behaviour of the motors corresponds to vibration severity level A according to EN60034-14 due to the balancing and concentricity tolerances. For special mechanical smooth-running requests, low-vibration motors can be supplied.

SEO=Electric motors reduced size. Progressive Electric Motor