IP23 Three-Phase Electric Motors
SEVA-tec GmbH specialises in a wide range of challenges within the drive technology field with a focus on electric motors, frequency inverters, and gear motors.On this page, you will find a selection of IP23 motors in grey cast iron which are available in the following design sizes: 160, 180, 200, 225, 250, 280, 315 and 355 with an electric capacity of 11kW, 15kW, 18.5 kW 22kW, 30kW, 37kW, 55kW, 75kW, 90kW, 110kW 160kW, 200kW, 250kW, 315kW up to 500kW.These motors are available in various rotation speeds, i.e. motors with pole numbers 2, 4 and 6. You can of course purchase them as energy-saving motors in IE3.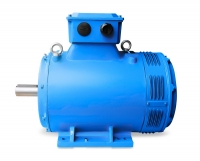 Space saving electric motor in IP23
Asynchronous Motors – Protection Classes
All motors and terminal boxes conform to protection class IP 55 in accordance with EN 60034-5. As required by this protection class, the cast iron motors are suitable for installation in dusty and humid environments. These motors must be protected from intensive sunlight when installed outdoors. For any electric motors with a shaft end located at the top of it, users should ensure that no water can enter the motor through the shaft. Upon request, the class of motor protection can be increased further for specific applications by introducing additional measures.


Standstill Heating
When three-phase motors are exposed to high-temperature fluctuations or extreme climatic conditions, there is a high risk of condensation formation. This poses a serious threat to the motor winding. Our optional, built-in standstill heater heats up the motor winding after switching it off and therefore prevents moisture precipitation inside the motor. During operation, the standstill heater should not be switched on.


Rotor Balancing
The rotors of all motors are dynamically balanced according to DIN ISO 8821 with an inserted half feather key. Drive elements such as belt pulleys, couplings, and pump wheels must also be dynamically balanced with an inserted half key. Upon request, full key balancing is also possible.