Miscellaneous assortment of bevel gearboxes
This is just a small selection of the many possible combinations in our gearshift shop. You can find power ratings of 0.12KW, 0.25KW, 0.55KW, 0.75KW, 1.1KW, 1.5KW, 2.2KW, 3KW, 4KW, 5.5KW, 7.5KW, 11KW, 15KW, 18.5KW, 22KW, 37KW, 45KW, 55KW, 75KW and 90KW. Please send an email to enquire about higher powers. Our bevel gearboxes open up particular application possibilities. For example, they are available in 14 different sizes up to 165 000 Nm and with parallel gear shafts or a bevel gear input stage. The bevel gearboxes have the following cooling options: water heat exchanger, air heat exchanger, cooling coil or a fan. In addition, there is a possibility of pressure lubrication, hydro-coupling or an integrated brake between AC motor and gearbox. We are also offering an integrated non-return device, a solenoid brake, a shrink disc or a special shaft with multi-spline profiles as per DIN 5480.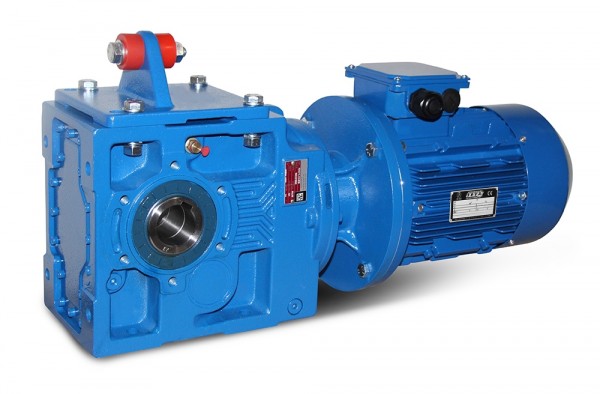 Bevel Gear Motor with Torque Arm

Particularities of the AC motor with bevel gearbox
Particular features are a generously dimensioned output shaft, gears made of high-quality case-hardened steel and hence a long serviceable life. These geared motors are also available in Atex design.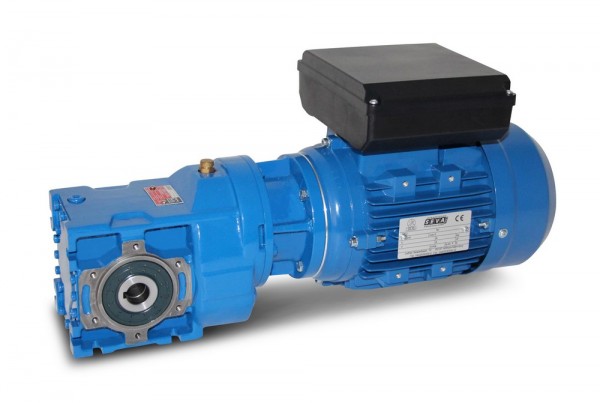 Bevel Gear Motor with 230V Drive


Physical layout of a bevel gearbox
A bevel gearbox consists of a bevel gear and a bevel pinion. The gear and pinion shafts form an angle of 90°, other angles are possible. This type of gearbox is specifically used for applications requiring high gear reductions and high torque movements. In most cases, drive is taken from the bevel pinion through the bevel gear to the output shaft; clockwise and anticlockwise rotation is possible. The transmission ratio i is given by the following equation, where Nt2 is the number of teeth of the bevel gear and Nt1 is the number of teeth of the bevel pinion: i = Nt2 / Nt1 . There is no self-locking mechanism as found on worm gearboxes. Bevel gearboxes are used in presses, rolling mills, machine-tool construction as well as in the automation industry wherever forces are transmitted at an angle.



Your technology team
Our focus is on premium quality, a competent team and a price that conforms to the market. If you do not find your geared motor here on these pages, please do not hesitate to contact us via email or by phone. We are a perfect partner also for businesses that need larger quantities. Simply let us know how many you need so we can send you a top quote.
SEO= Miscellaneous assortment of bevel gearboxes