Gear Motors with an Integrated Control Unit
Our range of gear motors also includes adjustable drives amongst other things. These allow a speed
controllable adjustment unit to be integrated into several different sizes of gear units. We offer this
with an integrated variable speed gear unit, which is mounted between the electric motor and the
actual gear. It can be controlled with a handwheel. We additionally offer a variant with a frequency
inverter, which is mounted directly on the electric motor. The speed control can be adjusted on the
potentiometer or PC. These possibilities apply to our complete gear unit assortment, I.e., for helical
worm gear motors, helical gear motors, parallel-shaft gear motors, planetary gear motors, and
helical-bevel gear motors. All the drives that we offer for sale are of the highest quality.
They are characterised by high performance and longevity.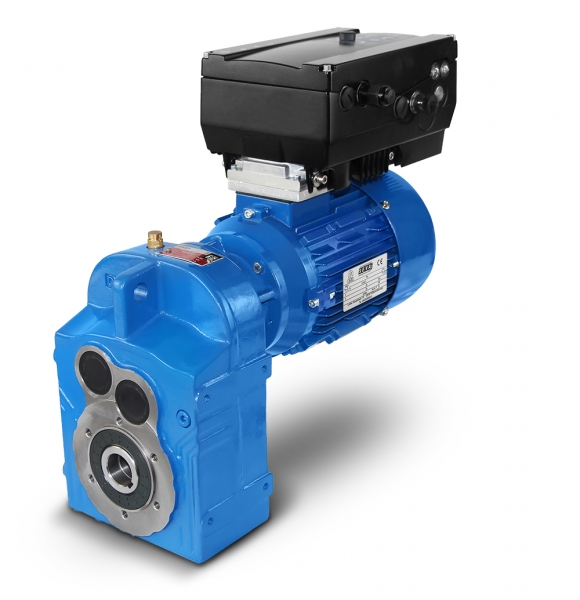 Parallel-Shaft Gear Motor with mounted Frequency Inverter


Application Examples
The adjustable helical worm gear motors are used extensively, e.g. on large rotary spits, shredders,
agitators, presses, feed screws, tubular screws, dosing screws, grain crushers, belt conveyors,
chain conveyors, bulk conveyors, conveyor spirals, belt dryers, feed silos, washing plants,
packaging machines, sawmills, for conveyor technology, the food industry, and generally
in plant and machine construction.
Gear Motors – Purchasing Advice
When purchasing a gear motor with an integrated control unit, professional support is indispensable.
We can assist you throughout the process and help with the right product selection. Due to our large
helical worm gear unit stock, we can also offer you short lead times.


SEO= Gear Motors with an Integrated Control Unit, Adjustable gear motors up to 22KW