Electric motor / three-phase motor
SEVA-tec GmbH is your specialist in the professional drive technology field. The focus is on three-phase motors, frequency inverters and geared motors. You can order our drives as energy-saving motor(-s) in IE2 / IE3 and in IE4. In many cases, electric motors are needed which are designed to match specific requirements. In this respect, with our qualified personnel, our large stock of motors and our own final assembly, we are a perfect partner for businesses that need very different motor designs.


Motor size, power, rotation speed
On this page, you find a selection of IEC motors in aluminium design in sizes of 63, 71, 80, 90, 100, 112 and 132 and with powers of 0.12 kW, 0.25 kW, 0.37 kW, 0.55 kW, 0.75 kW, 1.1 kW, 1.5 kW, 2.2 kW, 3.0 kW, 4 kW, 5.5 kW and 7.5 kW. Here you also have the possibility of motor size reduction, i.e. progressive design. Motor power is always expressed in kW. The unit "HP" will no longer be used. Our motors are available in various speeds, i.e. motors with pole numbers of 2, 4, 6, 8 or 10.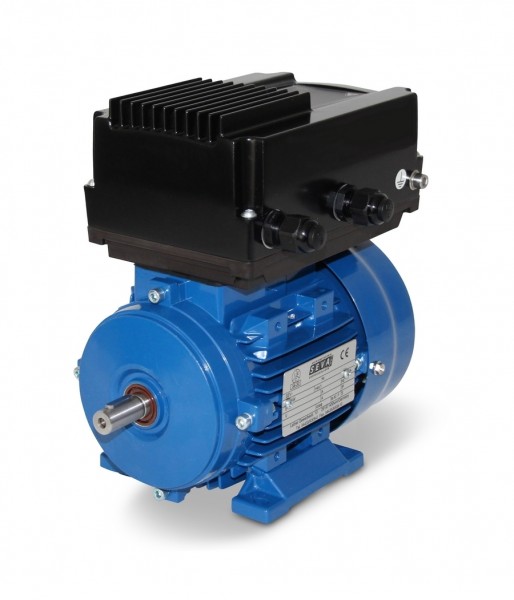 Three-phase motor with integrated frequency converter
Motor construction type
The following motor construction types are available:
IM B 3, IM B 35, IM B 6, IM B 7, IM B 8, IM V 5, IM V 6
IM B 5, IM V 1, IM V 3
IM B 9, IM V 8, IM V 9
IM B 14, IM V 18, IM V 19.
The foot-mounted design corresponds with DIN 42673; the flange-mounted design, with DIN 42677.
Noise characteristics
The noise level of an electrical machine is determined from measurements of the total sound pressure level using the evaluation curve A of the sound level measurement device in accordance with EN 60651 and is expressed in dB(A). The limit values of the noise levels of electrical machines are laid down in EN 60034-9. The noise levels of our motors are significantly less than these limit values.


Quality products
Our electric motors / three-phase motors are subject to strict quality controls. Precise checks are carried out during the manufacturing process as well as before shipping to ensure proper operation during commissioning. This dual checking system minimizes error rates and avoids replacement costs.


Specific customer demands
Special motors and customer-specific motors can be built and supplied from our factory at a small surcharge and in an acceptable time of delivery. In addition, we can meet your wishes for express manufacturing by modifying the motors that we keep in stock at our factory in Ahlhorn. In our workshop with engineering and paint shop facilities, we modify standard stock motors by e.g. enabling different voltages and/or frequencies, second shaft end, special bearings, motors with external fans, motors with mounted brake or motors with rotary encoders.


Assortment of motors
Whether it is a specific brake motor, circular saw motor, frequency inverter motor, special shaft, specific line voltage or motors with different degrees of protection – we are your professional partner in the standard motors and special motors field. All electric motors comply with DIN and/or IEC regulations. If you do not find your electric motor here in our online store, please do not hesitate to contact us via email or by phone.
SEO= Electric motor / three-phase motor- Aluminum motor 0.75-1.1-1.5-2.2-3-4-5.5 KW