Helical Bevel Gear Motor - Assortment



In our gear motor online shop, you will find a small selection of the many possible combinations available. These include the
following sizes: 0.12kW, 0.25kW, 0.55kW, 0.75kW, 1.1kW, 1.5kW, 2.2kW, 3kW, 4kW, 5.5kW, 7.5kW, 11kW, 15kW, 18.5kW,
22kW, 37kW, 45kW, 55kW, 75kW, and 90kW. Our helical bevel gear units are characterised by their special application
possibilities. They are for example available in 14 different sizes up to 165,000 Nm and are available with a parallel axis or
a bevel gear input stage. The helical bevel gear units have the following cooling options: water heat exchanger, air heat
exchanger, cooling coil, or fan. There is also a pressure lubrication option, a hydro coupling, or an integrated brake between
the AC motor and the gearbox. Furthermore, we offer an integrated back rotation lock, an electromagnetic brake, a shrink disk,
or a special shaft with a multi-spline profile according to DIN 5480.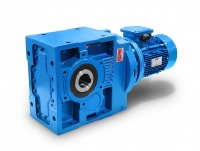 Helical bevel gearbox with three-phase motor
Special Features of the Helical Bevel Gear Motor
The generously dimensioned working shaft and bearing combined with gear wheels made of high-quality case-hardened steel
guarantee a long service life. Helical bevel gear motors with high torque are additionally also available in Atex-design.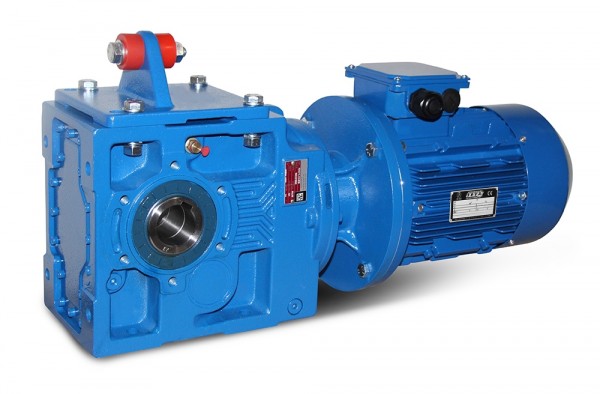 Bevel gear motor with torque arm
Helical Bevel Gear Unit - Construction
A helical bevel gear unit consists of a bevel gear and a bevel pinion. The axes are often offset by 90° but other angles work too.
These angular gears are utilised where high gear reductions, torques, and movements are required. The drive is mostly
established by the bevel pinion, and both left and right directions of rotation are possible. The transmission ratio is the quotient
of the z2 number of teeth of the helical bevel gear divided by the z1 number of teeth of the bevel pinion. Self-locking which
occurs with a worm gear does not happen. Helical bevel gear units are utilised as power gearboxes for presses, rolling mills,
for machine tool construction, and in automation, i.e. whenever movements and forces must be transmitted at an angle.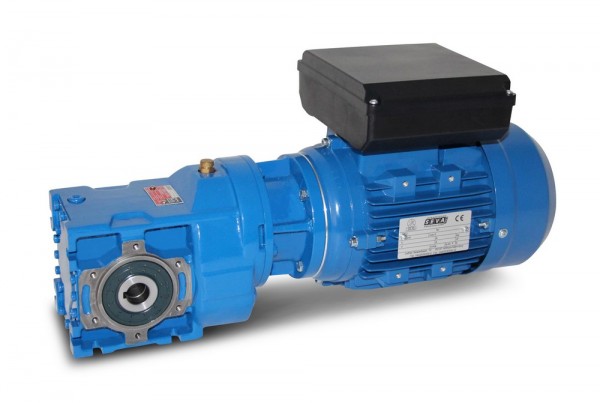 Bevel gear motor with 230V single phase motor
Your technology team
The highest quality, a competent team, and a price in line with the market are our priority. If you cannot find your desired gear
motor within our online shop, please do not hesitate to send your enquiry by email or simply contact us directly by telephone.
We are also the ideal partner for customers wishing to place bulk orders. Simply send us your requirements and you will receive
a competitive offer from us.
SEO= Miscellaneous assortment of bevel gearboxes, Bevel Gear Motors 1.1-1.5-2.2-3-4-5.5-7.5 KW