Gear Motor + Handwheel Adjustment
The helical gear unit, which can be adjusted by a handwheel, is made of an aluminium or grey cast iron housing and is available in various sizes. The combination of a helical gear and a three-phase motor is available with the following power output capacities: 0.25kW, 0.37kW, 0.55kW, 0.75kW, 1.1kW, 1.5kW, and up to 2.2kW. The helical gear units with speed control can be ordered in the following shaft output sizes: 20mm, 25mm, 30mm, and 35mm. The gear motor with mechanical speed control can be used for mounting positions M1, M2, and M4. As with any drive of this type, it must be ensured that the speed control is only carried out during operation.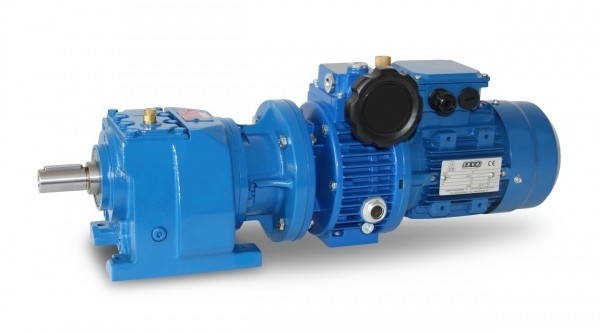 Gear Motor with Handwheel Speed Control
Application Examples
Variable speed gear motors are used extensively, e.g. in or on shredders, agitators, presses, feed screws, tubular screws, dosing screws, grain crushers, belt conveyors, chain conveyors, chain scrapers, conveyor spirals, belt dryers, feed silos, washing plants, packaging machines, sawmills, in conveyor technology, the food industry and generally in plant and machine construction.
How the Variable Speed Gear Units Work
The variable speed gear is a planetary gear with an adjustable reduction ratio. The motor drives the so-called sun gear. The rotary motion is transmitted to the planet wheels. The connection between the stationary and the movable outer race transmits the rotary motion to the output shaft. The displacement of the ball ring and the cam changes the axial position of the movable raceway and the radial position of the planet wheels. In this way, the roller diameter and the angular velocity of the output shaft change. If the contact point between the planet wheels and the outer raceway shifts towards the centre of the planet wheels, the output speed decreases, and the torque increases.
Speed Control – Caution
The speed must only be adjusted when the variable speed gear is in operation and not when it is stationary. Otherwise, the variable speed gear unit will be damaged.
Gear Motor – Purchasing Advice
When purchasing a SEVA helical gear motor with handwheel speed control, professional support is indispensable. We would like to draw your attention to our telephone advice and assistance when it comes to product decisions. In addition, we can offer short delivery times due to our large gear motor stock.