Single Phase Motor/ Alternating Current Motor
On this page, you will find a selection of electric motors designed as single-phase motors in sizes 63-112 with a power output capacity of 0.18kW, 0.25kW, 0.37kW, 0.55kW, 0.75kW, 1.1kW, 1.5kW, 2.2kW, 3.0kW, and 3.7kW. We offer these single-phase motors with operating capacitors and starting capacitors. In many cases, IEC AC motors need to be designed to customer-specific requirements. Our qualified team combined with an extensive motor stock and in-house final assembly make us the ideal partner for businesses that require external expertise on a large scale. Examples of this include a special 220V brake motor, circular saw motor, AC motor with a special shaft, specific supply voltage, single-phase motor with different protection classes, etc. Outstanding quality, a competent team, and fair market prices are our priority. If you cannot find your 230V motor here in our online shop, please do not hesitate to send us a direct enquiry.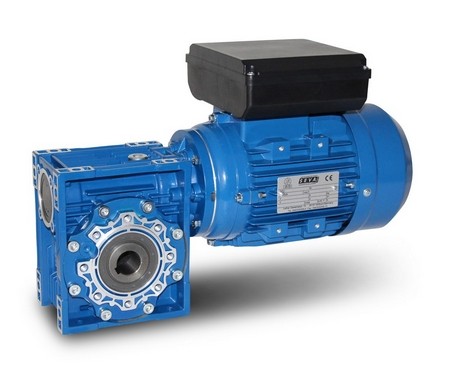 Worm Gearbox with Single Phase Motor
The 230V Motor
Our AC motors are offered with operating capacitors and starting capacitors. For heavy-duty starts, a motor with two capacitors is required. Our AC motors can generally be operated in both, clockwise and anti-clockwise rotation, i.e., in both directions. If a change of rotation is required, the control unit can be alternated accordingly. The voltage specification for AC motors has been changed from 220V to 230V. For three-phase motors, the nominal voltage has been extended from 380V to 400V.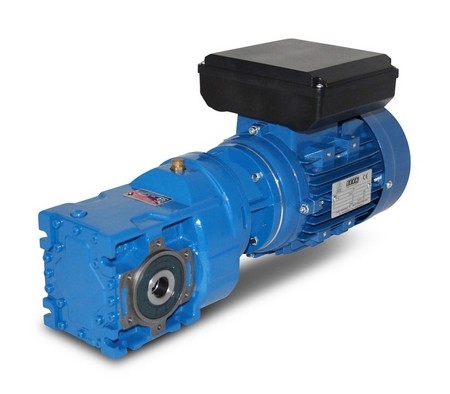 Bevel Gear with Single Phase Motor
How is the Rotating Field in the Single-Phase Motor generated?
The generation of a rotating field requires at least two phase-shifted voltages that are not available with a single-phase alternating current. Therefore, a so-called auxiliary phase must be generated. One of the two stator windings is directly supplied by the AC mains, while a capacitor is connected in series to supply the second winding, which is arranged at 90 degrees. This results in a phase shift of the voltage at the secondary winding. While the generated rotating field is sufficient to move the rotor, it is also load-dependent and leads to a low starting torque. Capacitor motors should therefore be started to the nominal working speed without load. The starting torque can be improved noticeably by intermittently connecting another approximately 2-3 times larger, so-called starting capacitor in parallel with the one already present for the duration of the start. The higher starting current requirement must then be considered, which can be several times the operating current at nominal speed.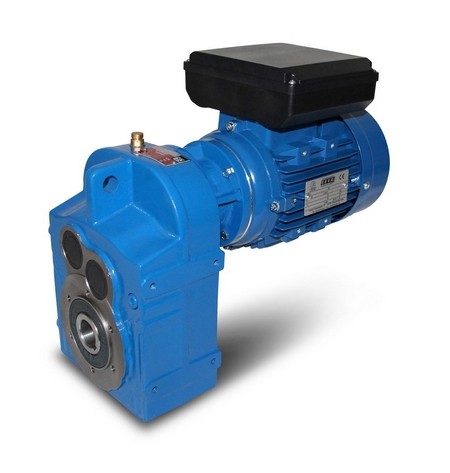 Parallel Shaft Gear with Single Phase Motor
Capacitor Size
Strictly speaking, the size of the capacitor can only be optimised for a single load case. With optimum capacitor dimensioning, approximately 65% of the mechanical power can be achieved in comparison to an identical asynchronous motor with a three-phase supply. High-quality capacitors are usually utilised for phase-shifting or starting capacitors. Typical capacitance values are approximately 20µF per kW motor output. For heavy starting, the capacitance value can increase up to approximately 50µF/kW.
SEO= Single-phase AC motor- Single phase Motor 0.18│0.25│0.37│0.55 KW |