Helical gear motors in top quality
We are specialized on a wide range of challenges in the professional drive technology field with a focus on electric motors, frequency inverters and geared motors. High quality, reliability and serviceable life expectancy are the trademarks of our geared motors. You can of course purchase our high-end and cost-effective AC motors with spur gear drives in our online store as well.


Geared motor sizes and powers
On this page of our geared motors online store, you find a selection of spur gear motors with very different speeds expressed in units such as rpm i.e. rev/min or min-1. Available are sizes 63, 80, 90,100, 112, etc., and motor powers of 0.12 kW, 0.18 kW, 0.25 kW, 0.55 kW, 0.75 kW, 1.1 kW, 1.5 kW, 2.2 kW, 3 kW, 4 kW, 5.5 kW, 7.5 kW, 11 kW, 15 kW, 18.5 kW, 22 kW, 30 kW, 45 kW, 55 kW, 75 kW and 90.0 kW.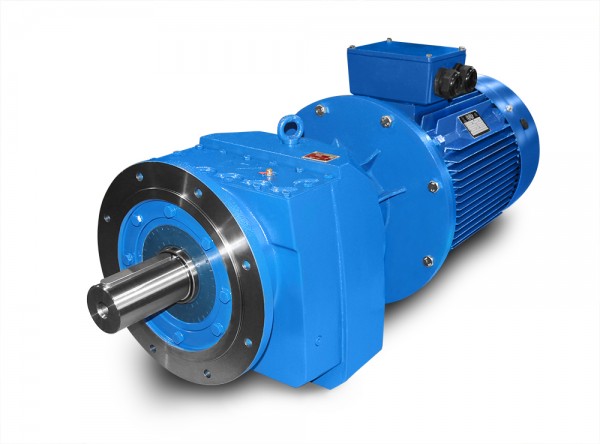 Spur Gear Motor with B5 Flange
Shaft diameters of the gearboxes
The drive shafts of the gearboxes are available in standard designs of 20mm, 25mm, 30mm, 35mm, 40mm, 50mm, 60mm, 70mm, 90mm, 100mm, 110mm and 120mm. Of course, every drive shaft has a threaded hole and the applicable shaft key which is different for each size.


Mounting positions of the gearboxes
The professional geared motor can be mounted in almost any position required such as, for example, horizontally or vertically, so as to match your needs. To do so, the online store lists the mounting positions M1, M2, M3, M4, M5 and M6 as possibilities to choose from.

Technical documentation
Please use our geared motors catalogue for any technical question you may have. Here you will find interesting information about the following: power factor, duty type, gearbox rotational directions, transverse forces, equivalent power, gearbox selection and maintenance.

Variants of geared motors

Spur gear drives are available in various speeds, i.e. from less than 1 to 1000 revolutions per minute. Spur gear motors are frequently also designed to match customer's individual requirements. With decades of experience and our own final assembly, we are a perfect partner for businesses that need external expertise in a large spectrum of issues whether it is, amongst other things, a geared motor with brake motor, a special shaft, specific supply voltage, a spur gear motor or explosion protected design.
SEO= Helical gear motors in top quality, Helical geared motor 1.1- 1.5- 2.2- 3- 4- 5.5 KW