SMARTdrive - Frequency Inverter - Electric Motor Combination
Electric motors with a built-in frequency inverter (SMARTdrive) are available in the following sizes:
71, 80, 90, 100, 112, 132, and 160. They are available with power output capacities of 0.37kW, 0.55kW,
0.75kW, 1.1kW, 1.5kW,2.2kW, 3kW, 4kW, 5.5kW, 7.5kW, and 11kW.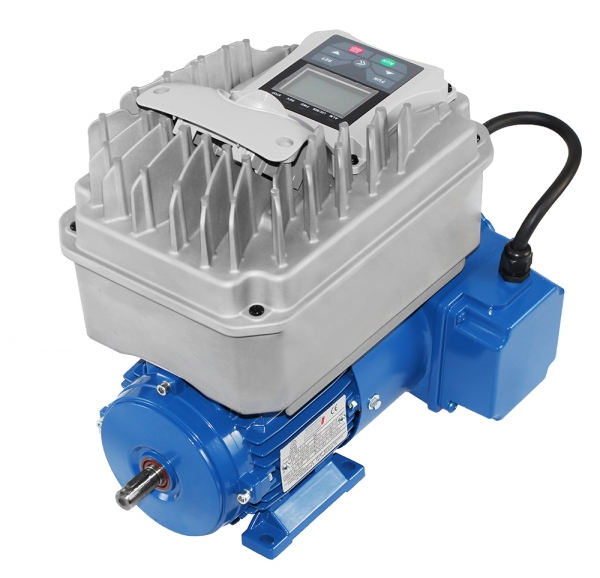 SMARTdrive Frequency Converter mounted on a Motor with an external Fan


Technical Information
A DSP-based high-tech engine control concept with V/Hz, SENSORLESS VECTOR, CLV, and PMM algorithms.
Intelligent AUTOTUNING functions for simple and fast commissioning. Robust construction, full metal housing, thermally decoupled from the motor IP55/NEMA4, vibration resistant (4G). Flexibly configurable 4-line LCD display. Prepared for common fieldbus systems.
Equipped with all standard frequency inverter functions, therefore suitable for universal use, including retrofit – PID controller built-in. EMC filter fitted as standard, optional C1 filter available with installation kit. Software tools for inverter control, programming, and diagnostics. A parameter copy stick is available. Compatible with worldwide standards.
Frequency Inverter – Structure
SMARTdrive inverters consist of 2 housing halves, the base housing, and the cover. The base has a mounting flange so that it can be mounted directly on the motor – terminal board. The power terminals for the motor, the EMC filter, and the capacitors are in the housing base. The control board with detachable control terminals and the power board are located on the cover. This promotes optimum heat dissipation. The removable control panel is located on the cover.
SEO= SMARTdrive - Frequency Inverter - Electric Motor Combination. Frequency Inverter + Motor 1.5-2.2-3-4-5.5 kW