Stainless-Steel Bevel Gear Motors up to 5.5kW
The extensive SEVA tec product range offers various output forms of stainless-steel helical bevel gear motors, including those suitable for the hygiene sector. Application areas of these include the chemical, petrochemical, pharmaceutical, and food industries. For aggressive environments that demand a high standard of hygiene, cleanliness, and corrosion protection, stainless-steel drives are the ideal solution.
Stainless-Steel Bevel Gear Motors according to HACCP and EHEDG
Stainless-steel helical bevel gear motors have the advantage of extreme corrosion resistance and offer exceptional resistance to harsh chemicals. For conventional gear motors, aggressive cleaning agents can cause significant problems during cleaning, which results in the chipping of paint or metal. To avoid this, stainless-steel helical bevel gear motors are utilised. The gear motors are available with matching flanges, plug-in shafts, in terminal box design, and with protection class IP69K.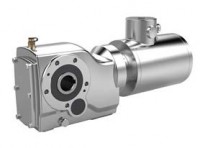 Stainless Steel Bevel Gear Motor with Terminal Box
Technical Features:
Smooth surface (food, beverage, pharmaceutical industry, etc.)

No dirt residue and bacteria foci

Reduced interfering edges due to lack of cooling fins

Excellent cleaning properties

Up to 1.5kW for protection class IP69K, higher power for IP66

Three-phase motor without a fan (important cleanroom feature)

Designed for rough continuous operation

Above-average service life

Optimum running smoothness
Protection Class IP69K
Protection class IP69K was developed for high-pressure jet cleaning at high temperatures. The code number "6" stands for protection against dust ingress while number "9" stands for protection during high-pressure cleaning at low distances. IP69K was introduced in 1993 and is based on the DIN40050-9 standard, originally developed for motor vehicles to protect against the ingress of foreign bodies such as dust, dirt, and hot water jets. The latest version of standard IEC60529 only refers to IP69 (IP69K = IP69).
SEO= Stainless-Steel Bevel Gear Motors up to 5.5kW