Helical geared motors online store
On this page of our geared motors online store, you will find a large selection of gearbox units. This includes
worm gearboxes, spur gearboxes, bevel gearboxes, flat gearboxes and planetary gearboxes in various
designs and speeds expressed in revolutions per minute (rpm, rev/min, min1). They are available
in common sizes, mounting positions, degrees of protection and designs. Available motor powers
range from 0.12 kW through 0.18 kW, 0.25 kW, 0.55 kW, 0.75 kW, 1.1 kW, 1.5 kW, 2.2 kW, 3 kW,
4 kW, 5.5 kW, 7.5 kW, 11 kW, 15 kW, 18.5 kW, 22 kW, 30 kW, 45 kW, 55 kW, 75 kW, to 90 kW,
or can be quoted on request.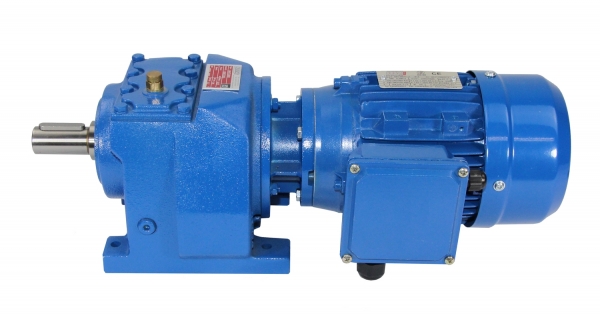 Geared Motor with Terminal Box on the right


Mounting positions of the gearboxes
In order to meet your technical requirements, the SEVA-tec professional geared motor can be installed
in almost any required position.The professional geared motor from SEVA-tec can be mounted in almost any
position required to match your technical requirements. To do so, please observe the "Select Mounting Position"
function. An explanatory graphic will display that allows you to choose between the mounting positions
M1, M2, M3, M4, M5 and M6. Based on a high degree of interchangeability of geared motor components,
you will benefit from greater flexibility of construction options available, reduced costs, shorter delivery
times and simpler maintenance.




Geared motors of special design
Spur gear drives are available in various speeds, i.e. from less than 1 up to 1000 revolutions per minute
(rpm, rev/min, 1/min). Spur gear motors are frequently also designed to match customer's individual
requirements. With decades of experience and our own final assembly, we are a perfect partner for
businesses that need external expertise in a large spectrum of issues – whether it is a geared motor
with brake motor, a special shaft, specific supply voltage, a spur gear motor or explosion protected
design. Our focus is on premium quality, a competent team and a price that conforms to the market.





Delivery time of geared motors
At this point, we would like to draw your attention to the fact that we have a continuously growing stock
of spur gear motors and worm gear motors, and hence we are in many cases able to ensure very fast
delivery. We already helped quite a few customers in situations where they urgently needed spare parts.



Your enquiry / our quote
If you do not find your geared motor here in our online shop, please do not hesitate to contact us via
email or by phone. Also when you need larger quantities, we are an important partner to your company
because we offer top conditions for our products.
SEO= Gear motor 5.5-7.5-11-15-18.5-22KW - Helical geared motors online store